We are delighted to say we are back and ready to go for this Easter!
We have a number of courses available this Easter from small group sessions to 121 coaching.
WEEK 1 @ Basingstoke and North Hants Cricket Club RG21 3DR
Tuesday 6th  – Thursday 8th April, 10am-1pm
3 days of hard ball net sessions for boys and girls aged 10-16 years old
Cost per day is £30.00 or  £75.00 for all 3 days.
WEEK 2 @ Eversley Indoor Cricket Centre
Tuesday 13th  – Thursday 15th April, 10am-1pm
3 days of hard ball net sessions for boys and girls aged 10-16 years old
Cost per day is £30.00 or £75.00 for all 3 days.
These net sessions we will have a limit of 12 places.
A qualified coach will be on hand to deliver a structured net practice sessions.
Also available is our specialist 121 coaching sessions.
These sessions are 1 hour sessions and are available for £35.00 per hour.
Monday 12th April – Friday 16th April, 10am-1pm
When booking on a 121 session, please put in our notes segment what times is ideal for you. Once booked we will confirm time and coach.
For more information or to book visit https://supersportz.co.uk/product-category/holiday-activities/xmas-cricket/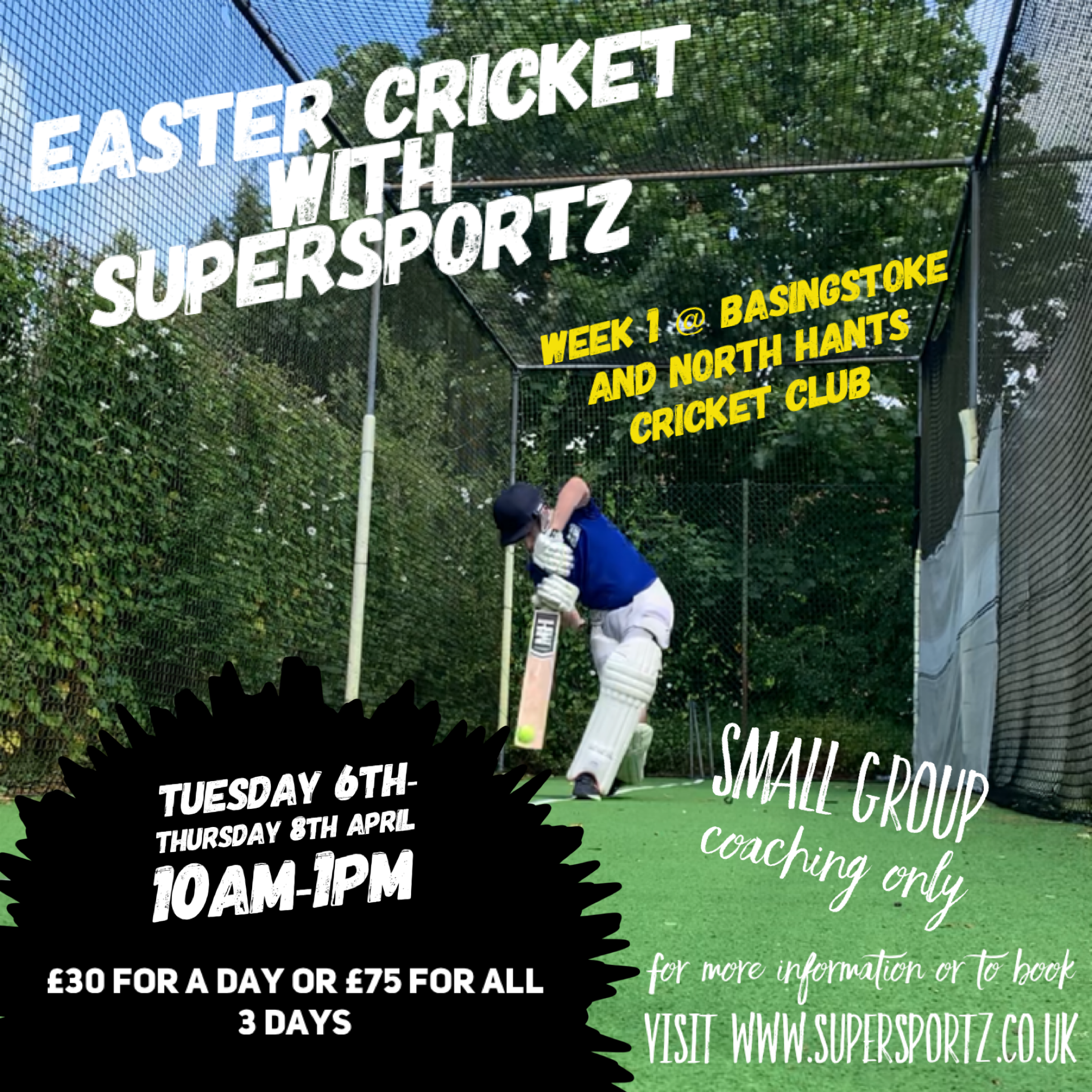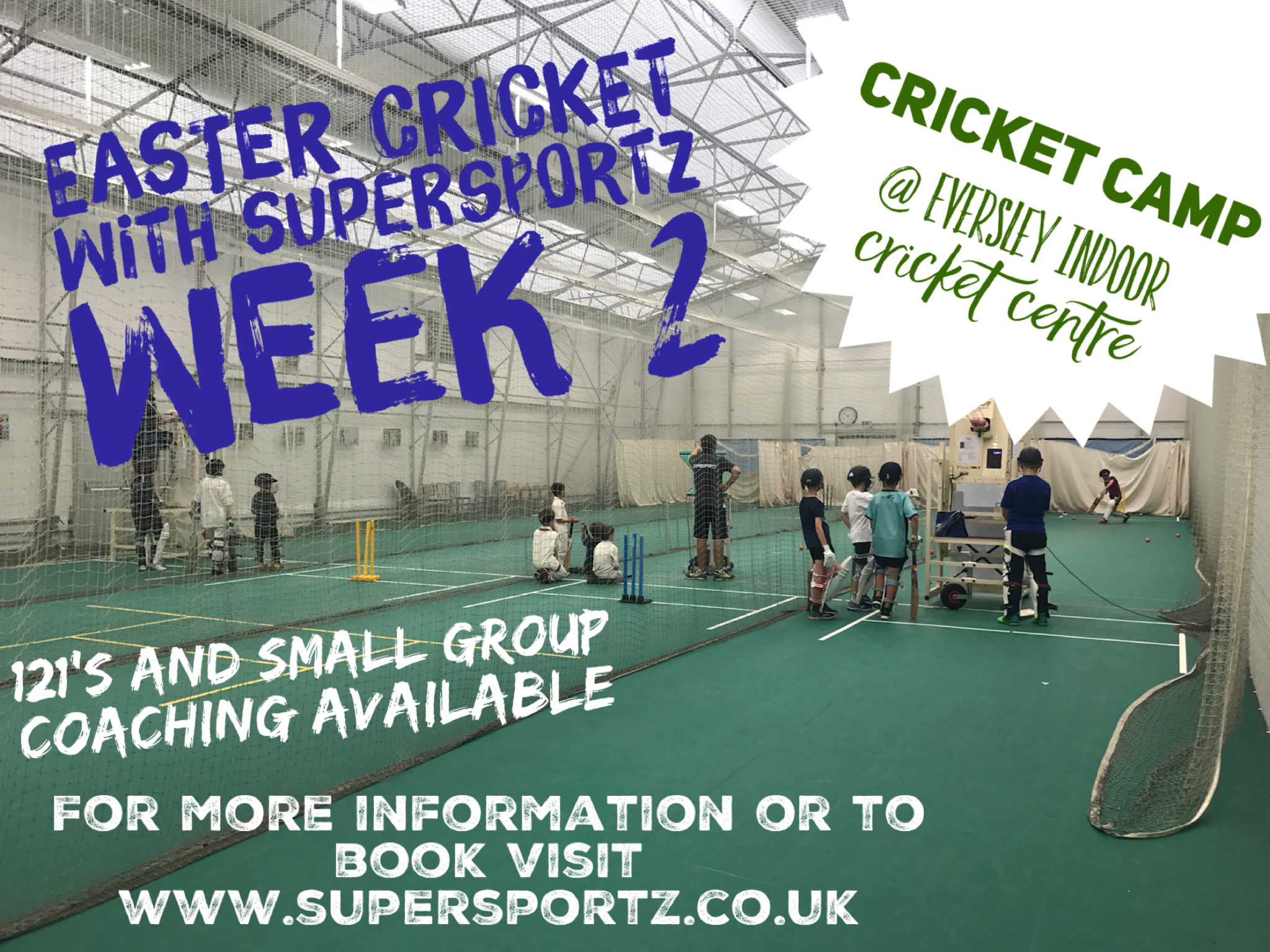 Supersportz  COVID-SECURE 
Rest assured, we will be operating our clubs with your children's safety and wellbeing at the forefront, following our Covid-Safe Operating Procedures advised by the latest guidelines from the government and Department for Education. Our focus during this time is to maintain the health of the children in our care, their families and our employees. As a business we are strictly following the government's latest guidelines as we receive them and have created a new set of Standard Operating Procedures. See below an outline of our policy:
Children will all be informed of the new rules and guidance around social distancing and the new activity protocol, if there are any issues with a child/children deliberately not adhering then we will inform the parents/carers/guardians of this and follow our behaviour policy protocol.
Social distancing and cleanliness will be promoted at all times.
Sanitisers will be on offer (or people will be directed to where they can clean their hands). We do suggest to pack your own hand sanitizer for good measures.
Across the facility doors will be propped open, where safe to do so (bearing in mind fire safety and safeguarding), to limit use of door handles and aid ventilation.
Cleaning
Supersportz will implement continued rigorous cleaning procedures throughout each day of delivery.
To prevent the indirect spread of the virus from person to person, our staff will regularly clean frequently-touched surfaces, such as; door handles, handrails, table tops and any equipment.
Reception Areas
Sanitisers will be on offer (or directed to where people can clean their hands).
During signing in and signing out the facility will let in one parent/guardian/carer at a time. They must state the child's/children's name/
The queuing system will follow the standard 1m distance as per all other England queue systems.
Only one parent is permitted to drop off and collect, also advised where possible siblings do not attend drop off and pick up.
Toilets
We will have signposted on each day which toilets are available to which camp. We will be doing toilets on a one in one out basis.
Session Delivery
Ratios for safe participation are no more than 15 children per group, with ideal numbers of 10:1. Cricket ratios will be smaller in guidelines with the ECB
Supersportz will try and make all groups to age and ability to ensure quality coaching.
Supersportz will ensure that if children in the same group are of differing ages, relevant and appropriate activity types are being delivered.
Supersportz will ensure that the staff are assigned to each group and, as far as possible, these stay the same during the day and on subsequent days.
Social distancing and cleanliness will be promoted by the staff at the beginning and throughout session/s.
Equipment
All equipment it is appropriately cleaned between groups of children using it, and multiple groups do not use it simultaneously.
Cricket – please bring all of your own kit where possible.
All activities will promote social distancing and have been designed to limit cross contamination as much as possible.
Illness
If anyone becomes unwell with a new, continuous cough, loss or change of taste and smell or a high temperature, we will ask parents/carers to come and collect them and they will be advised to follow the COVID-19: guidance for households with possible coronavirus infection guidance.
If a child is suspected to be ill and is awaiting collection, they would be moved, if possible, to an area where they can be isolated, depending on the age of the child and with appropriate adult supervision if required. If it is not possible to isolate them, they would be moved to an area which is at least 1 metre away from other people.