Welcome to the Millichamp & Hall store at Eversley Indoor Cricket Centre. 
We have a wide selection of products from M&H
In stock we have the new F100 and the 2019 Original. Also on offer is the Pro LE, Pro and Players Hybrid.
We also have a good selection of batting pads and gloves with the pro wicket keeping pads and gloves available.
We have 5 different types of bags to choose from.
Please all appointments need to be booked in advance. 
If you would like to book an appointment please contact us on 07904 102654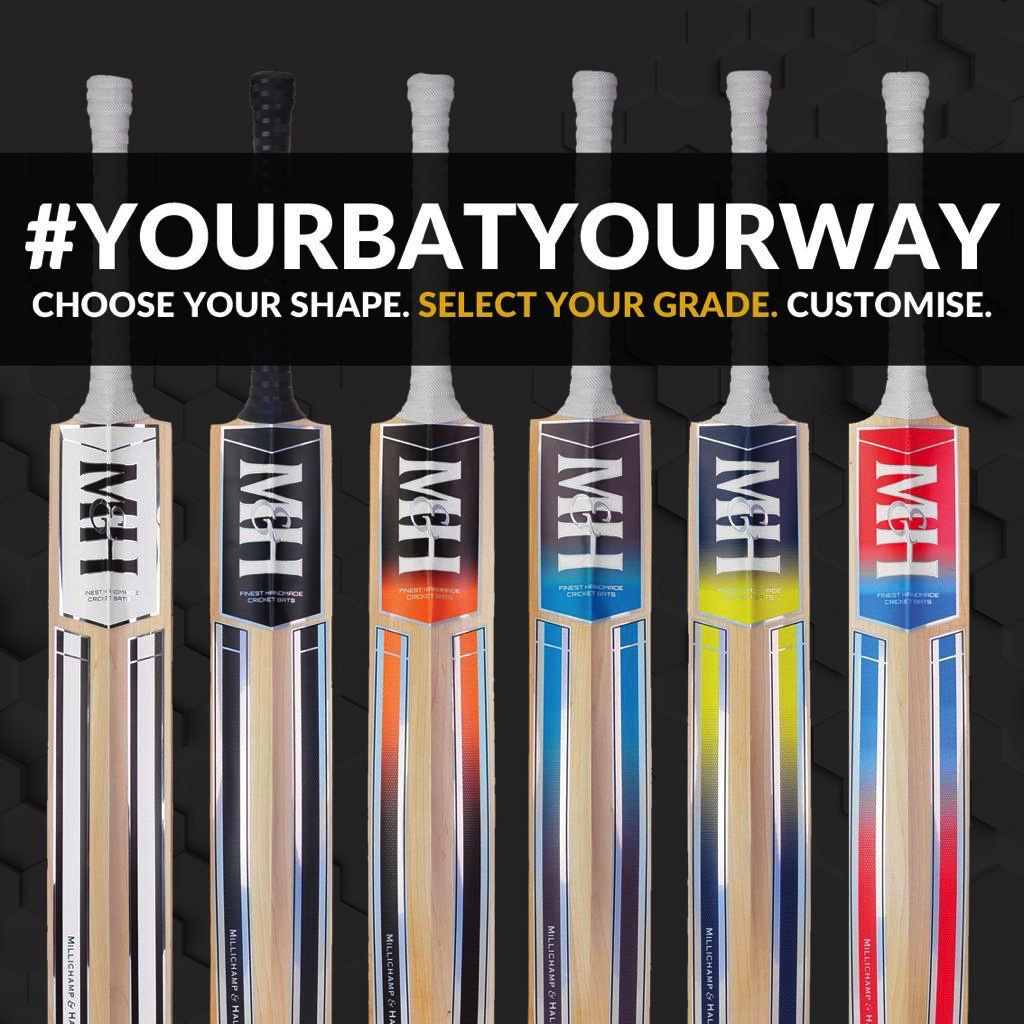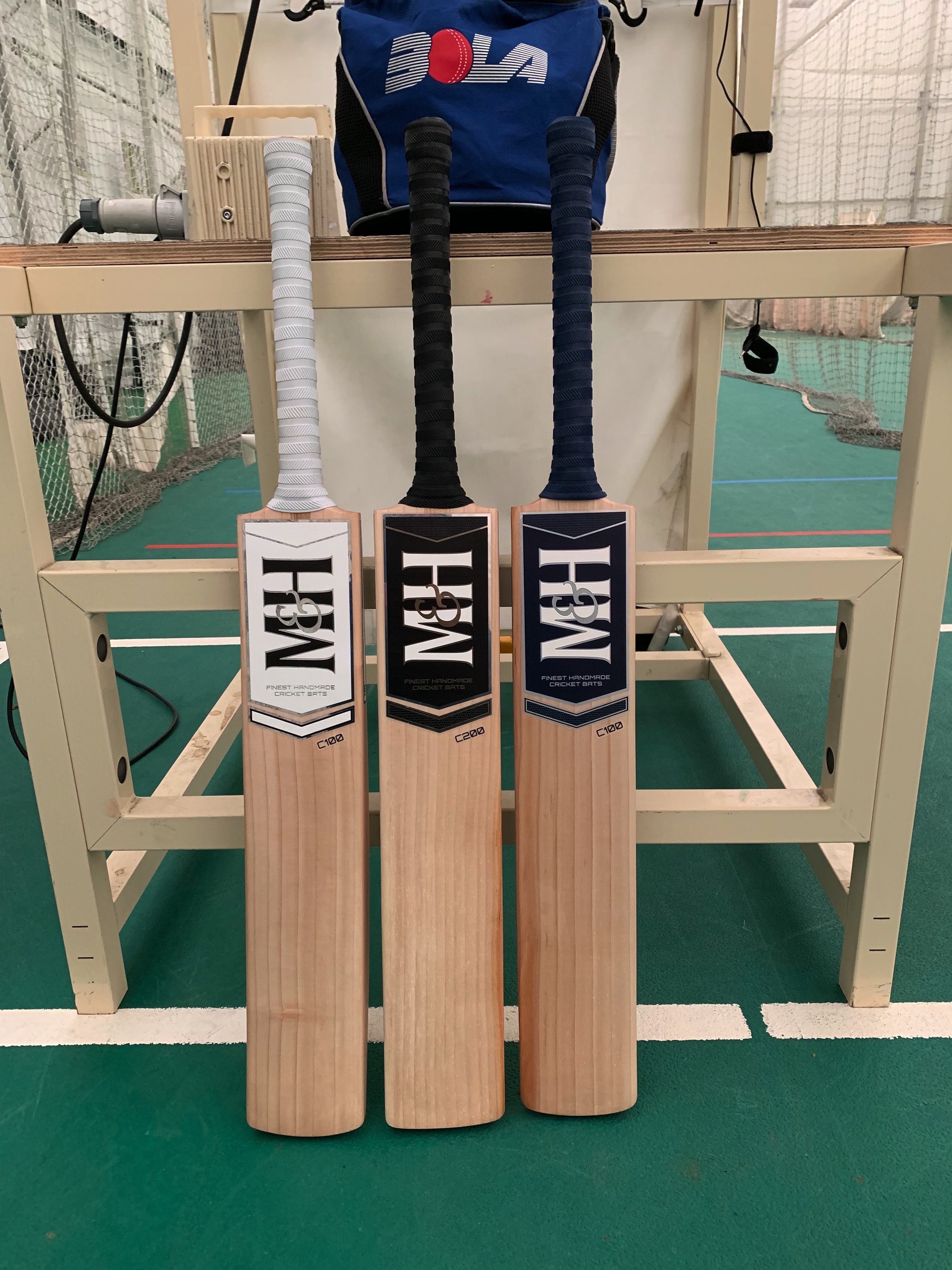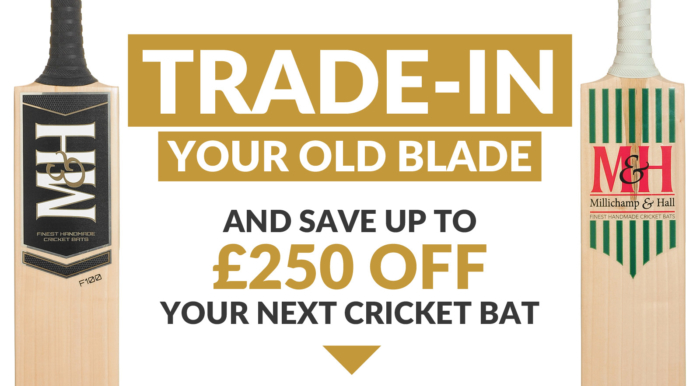 SAVE BIG WITH THE M&H TRADE-IN
The popular Millichamp and Hall trade-in is back in 2019. You can now save up to £250* on our MKI (Pro-grade) F100, Original, PRO LE, PRO and PLAYER cricket bats when you trade in your old blade. It doesn't matter what make of bat you own, simply bring your old bat into any of Acton, Burnley, Eversley or Taunton stores and save on your next M&H wand.
TRADE IN FAQ'S
* HOW MUCH WILL I GET FOR MY OLD BAT?
We will give you up to £250 off our MK I (Pro-grade) F100, Original, PRO LE, PRO and Player cricket bats, depending on the condition of your existing bat and is offered at the discretion of Millichamp and Hall. Please note that this offer cannot be used in conjunction with any other offer or sponsored player discount.
DO I NEED TO TRADE-IN A M&H BAT TO GET THE DISCOUNT?
No, we will accept any make of cricket bat, as long it is in a good condition.
WHAT CONDITION DOES MY BAT NEED TO BE IN?
We will accept any make of cricket bat, as long it is in a playable condition. The trade-in discount is offered at the descretion of Millichamp and Hall and is based on condition of the bat that you're seeking to exchange. If you are unsure if your bat is in playable condition, you can email us a photo at info@millichampandhall.co.uk.
HOW LONG IS THIS OFFER ON FOR?
The offer runs all season and ends on the 31st December 2019.
CAN I TRADE-IN MY BAT USING THE ONLINE STORE?
Unfortunately this is not possible. You can trade-in your old bat by visiting our Somerset workshop, or one of our satellite stores located across the UK (Burnley, Acton and Eversely).
IF I CHANGE MY MIND, CAN I HAVE MY OLD BAT BACK?
Unfortunately we are unable to return any of the traded in cricket bats, even in the event of a refund. Once traded in, the bat becomes the property of Millichamp and Hall and will be made available as refurbished practice bats. However, our standard returns policy still applies to all new bats. You can find details here.
CAN I TRADE-IN MORE THAN ONE BAT?
Yes you can, but the discount will apply to only a single bat at a time.
IF I DON'T WANT A NEW BAT AT THIS TIME CAN I HAVE A GIFT VOUCHER?
Unfortunately we are not able to issue gift vouchers in conjunction with a bat that has been traded in. Your purchase must be made or order placed when trading in your old bat.
BAT REPAIR AND REFURBISHMENT FOR ANY MAKES OF CRICKET BAT
Millichamp and Hall and pleased to provide a wide range of bat repair and refurbishment services to customers with any make of cricket bat. Our services are carried out by experienced staff at our workshops at the Somerset Country Ground in Taunton. If you wish to send us your bat for repair/service (non warranty), please complete our simple online form below, which will also enable you to pay for our services online. There is also an Express delivery option, meaning that we can get your trusty bat back to you in 2/3 working days.
BAT REPAIR & REFURB COSTS
Our highly trained repair team will identify what action to talk on the damage and carry out the repair work for you.
Our comprehensive bat service will entail us stripping the bat and repairing any damage. We'll then sand the blade to finish it off, before relabelling it (M&H bats only) and giving the bat a new grip.
03.

PROSTATE CANCER UK BAT SERVICE – £65*
Everything that our comprehensive bat service entails, including us finishing off your refurbished blade with our Limited Edition Prostate Cancer UK labels. *£10 + VAT of the retail price of every label set sold is given by Millichamp & Hall to Prostate Cancer UK (Registered charity no. 1005541).
A broken handle doesn't mean the end of your beloved wand. We'll expertly remove the damaged handle before completing the repair work, sanding and supplying it back to you as good as new.
Re-balancing your cricket bat essentially means reducing the weight of the blade. The size of the bat will depend on the viability of the re-balance.
05.

NEW: BAT MODIFICATION – £35
The new ICC ruling places specific limitations on the size of cricket bats. Our bat modification service enables us to change the profile of your bat to meet these specifications. Please note that your bat profile and weight will change when undertaking this service.
05.

READY TO PLAY SERVICE – £35
Our skilled repair team will take the inconvenience out of preparing your new cricket bat for you. We'll oil and knock the blade in so it's ready for you to use.
We'll supply and fit a rubberised toe gaurd ensuring your toe is well looked after and does not damage on various playing surfaces.
SPONSORSHIP -REPRESENTING MILLICHAMP AND HALL.
At Millichamp and Hall, we're committed to encouraging and supporting young cricketers; those with the drive and determination to become better players and ambassadors for the sport. Our popular sponsorship programme continues in 2019 and is aimed at supporting players across the cricketing spectrum; from talented club and county representatives, to those involved in academy and EPP programs, as well as elite cricketers playing at the highest level. Please note that whilst we strive to support all applications, Millichamp and Hall sponsorship cannot be guaranteed.  
ENJOY BIG SAVINGS
As a Millichamp and Hall sponsored player, you'll benefit from fantastic discounts across our entire range; including our latest F100, PRO LE and Original ranges.
To apply for our 2019 M&H sponsorship, please complete our online sponsorship application form below. For those playing county / district level and above, you will be asked to provide supporting evidence. This can be in the form of a digital copy of either a county certificate, scorecard or press release. Due to the large volume of requests we receive, we aim to respond to all sponsorship requests within ten working days.